On May 11th, 2015 by Naomi
Registration is open for our third Maker Night this semester! At the first two Maker Nights we had coders, crafters, 3D designers, whiteboard artists, and more -- what will YOU make this time? See photos from April 23 here and get inspired!
MOUSE Maker Nights are FREE for all NYC high school students, so bring your friends, brothers, sisters, cousins, frenemies who are maybe actually awesome deep down, classmates, teammates, and more!
At Maker Nights, you will...
Have the chance to tinker, make, and build with things like pipe cleaners, Arduinos, clay, breadboards, LEDs and sensors, MakerBot 3D printers, laptops, motors, hot glue guns, soldering equipment, craft supplies, and more!
Get to work on a school project you bring with you, plan and create something you've always wanted to make, come up with an idea so crazy it just might work, or just explore new tools and crafts!
Eat free pizza!
Meet awesome teens from across NYC who are part of the Maker movement! And maybe you'll even...
Start a project that you'll end up bringing to Emoti-Con!
What you need to know to attend:
WHEN: Maker Night is coming up on Wednesday, May 20, from 4-6pm.
WHERE: MOUSE Headquarters: 55 Broad Street, 16th floor, in Manhattan.
WHO: MOUSE Maker Nights are open to all NYC high school students! However, space is limited, so you have to...
RSVP: Sign up today!
WHAT ELSE? MOUSE will provide all the materials...including pizza. :-)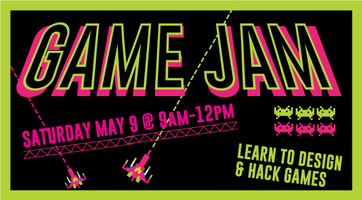 On Saturday May 9th over 35 students from 20 schools came to the first MOUSE/Hive Chicago Game Jam to hack, create and play with games at Intrinsic Schools. This event was a part of the Scratch Day celebration that took place around the world.
We started the day by watching presentations from some professional game designers who came to hang out with us. We had designers from Gameseed, We Are Chicago, Octodad and more! After the presentation, we could go to seven different activity stations to learn how games are made and try our hand at making our own!
Every time we completed an activity we wrote something we learned on a sticky note and added it here:
At the end of the day we gathered around the microphone to share some of the projects that we made. Some showed their racing cars, some talked about their board games or the remixes they made in Scratch or the Sharknado story they wrote. After the share-out we raffled off Nintendo DS systems to some lucky winners!
Thanks so much to everyone who made this day a success!
Be sure to check out Hive Chicago for more events and check out our Serious Games badge here on mousesquad.org.
On May 3rd, 2015 by Naomi
Join youth from all over NYC for Emoti-Con on May 30!
On Saturday, May 30, 2015, over 150 New York City-area youth will gather at the Bartos Forum at the Fifth Avenue Library for the seventh annual Emoti-Con NYC Youth Digital Media and Technology Challenge! The day will include:
a science fair-style competition for technology & digital media projects created by by youth
awards across several categories for exceptional projects
great professional speakers
catered lunch and cool giveaways for all, and
a raffle at the end of the day!
This is your chance to show off awesome projects that you've worked on this year in MOUSE Squad! Projects that are a good fit for Emoti-Con! include digital media projects (like podcasts, videos, graphic design projects), web-based projects (like websites, video games, and apps), physical computing projects (things with moving parts or blinking lights), and remixes/hacks/mashups (projects that use content that already existed in a new & exciting way).
This event is open to youth from different programs all over NYC (and particularly from Hive NYC programs), so we need your Squad to represent MOUSE!
What You Need to Know:
WHEN: Saturday, May 30. Students presenting projects arrive at 10am to set up, and audience members arrive at 10:30am.
WHERE: The Bartos Forum at the 5th Avenue Library in Manhattan, entrance on W. 42nd Street between 5th & 6th Avenues - see a map.
WHO: Youth in grades 6-12 are invited to present projects at Emoti-Con! Each group of presenters may have an adult chaperone, and additional chaperones and youth who want to attend but don't have a project to present should register as "Audience Group." Please note that if you register as audience members your space is not guaranteed, as priority goes to presenters. More details available on the registration page.
SIGN UP: Register at emoticon2015.splashthat.com. Please register as a group--talk to your MOUSE Squad Coordinator about getting signed up, and be sure to answer the questions about your project together!
YOUR REGISTRATION FORM MATTERS: The registration form includes important questions about your project(s) that the panel of judges will review as a part of the judging process to gain a better understanding of your work, so you should plan to answer these questions as a team. (If you need to update your answers after you register, you can!)
WHAT ELSE: The day includes lunch for everyone, swag bags with fun giveaways, and roundtrip MetroCards for MOUSE Squad students!
COORDINATORS: Please make sure all youth AND adult chaperones fill out this media release/waiver and bring it with them to Emoti-Con.
Get Ready:
If you're planning to present a project at Emoti-Con, you'll need to bring your project, bring anything you need to display it, and be ready to talk about it! If you're entering your project in the competition, you should also prepare a short pitch--if you're selected as a finalist, you will be presenting your project to everyone at Emoti-Con! Either way, make sure you read the notes on the registration page.
If you want to learn more about Emoti-Con before signing up, check out this infosession we held recently:

Prizes & Glory!
Five finalists will be selected from the projects in the competition, and each finalist will be awarded one of these prizes: Most Potential for Social Impact, Most Entertaining, Best Pitch, Most Innovative, and the Point of View Award. One of the finalists will also walk away with the trophy for Crowd Favorite!
So register today--we hope to see you there!
Learn more and stay in touch with Emoti-Con: