On May 13th, 2015 by Naomi
Share your feedback on the MOUSE Squad End-of-Year Survey!
MOUSE Squad Coordinators and students, we want to hear from you! Please take a few minutes to fill out the MOUSE Squad End-of-Year Survey. Your opinions mean a lot to us, and when you answer these questions you tell the MOUSE team what's awesome, what you love, and what we need to change to make next year even better.
So before the school year ends, tell us what you think--and you could win awesome prizes! Ten lucky winners (5 coordinators and 5 student members) will be randomly selected from everyone who responds to the survey. Student winners will get a Nintendo DSi XL and game pack, and Coordinator winners will get a $100 gift certificate to Best Buy!
The deadline to complete the survey is Friday, June 5. Go ahead and tell us what you think!
PLEASE NOTE: You should only fill out this survey if you have participated in MOUSE Squad in the 2014-15 school year. You can only fill it out once. If you're participating in TechCrew in Chicago, you may fill out the survey!
If your MOUSE Squad site is in California and you're reading this, please disregard the above. California MOUSE Squad Coordinators should fill out the survey here, and California MOUSE Squad students should fill out the survey here.
On May 12th, 2015 by Naomi
Registration is open for our third Maker Night this semester! At the first two Maker Nights we had coders, crafters, 3D designers, whiteboard artists, and more -- what will YOU make this time? See photos from April 23 here and get inspired!
MOUSE Maker Nights are FREE for all NYC high school students, so bring your friends, brothers, sisters, cousins, frenemies who are maybe actually awesome deep down, classmates, teammates, and more!
At Maker Nights, you will...
Have the chance to tinker, make, and build with things like pipe cleaners, Arduinos, clay, breadboards, LEDs and sensors, MakerBot 3D printers, laptops, motors, hot glue guns, soldering equipment, craft supplies, and more!
Get to work on a school project you bring with you, plan and create something you've always wanted to make, come up with an idea so crazy it just might work, or just explore new tools and crafts!
Eat free pizza!
Meet awesome teens from across NYC who are part of the Maker movement! And maybe you'll even...
Start a project that you'll end up bringing to Emoti-Con!
What you need to know to attend:
WHEN: Maker Night is coming up on Wednesday, May 20, from 4-6pm.
WHERE: MOUSE Headquarters: 55 Broad Street, 16th floor, in Manhattan.
WHO: MOUSE Maker Nights are open to all NYC high school students! However, space is limited, so you have to...
RSVP: Sign up today!
WHAT ELSE? MOUSE will provide all the materials...including pizza. :-)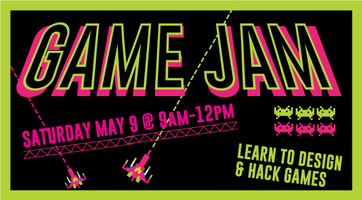 On Saturday May 9th over 35 students from 20 schools came to the first MOUSE/Hive Chicago Game Jam to hack, create and play with games at Intrinsic Schools. This event was a part of the Scratch Day celebration that took place around the world.
We started the day by watching presentations from some professional game designers who came to hang out with us. We had designers from Gameseed, We Are Chicago, Octodad and more! After the presentation, we could go to seven different activity stations to learn how games are made and try our hand at making our own!
Every time we completed an activity we wrote something we learned on a sticky note and added it here:
At the end of the day we gathered around the microphone to share some of the projects that we made. Some showed their racing cars, some talked about their board games or the remixes they made in Scratch or the Sharknado story they wrote. After the share-out we raffled off Nintendo DS systems to some lucky winners!
Thanks so much to everyone who made this day a success!
Be sure to check out Hive Chicago for more events and check out our Serious Games badge here on mousesquad.org.